We're entering peak sales season with Black Friday campaign planning looming over all of our schedules. And the sense of urgency that you're trying to instill among your customer base is getting harder to build up, it seems. Clever copy or a big discount are just not enough in 2022. It's time you get ahead of the curve and create digital marketing visuals that attract, compel, and persuade in seconds!
Our love for motion design and perfectly looped animations for e-commerce web design is a given. It just so happens to be that Black Friday animation is also one of our favorite game-changing genres of motion graphics. Motion easily conveys information, it outranks other elements in visual hierarchy, and in the context of sales, it also converts!
Coming right up:
✓ the most popular types of Black Friday motion graphics
✓ examples of how to put them all to good (and profitable!) use in your next campaign
✓ a major collection of animated Black Friday freebies from SVGator to wrap it all up
Table of Contents:
Black Friday GIF Animations
Black Friday email campaigns are a true driving force in every marketer's strategy, and there's no better place for a Black Friday GIF to pack a mighty punch than inside a newsletter. With close-to-universal support in most major email clients, a GIF animation with a selling intent increases the chances of customers following through with a purchase.
Create GIFs to spotlight an exclusive discount, a limited time offer, or to announce a BF weekend. There's no need for a complex graphic in this case (so size shouldn't be an issue), as you'll want the Black Friday animated GIF to condense the best part of your campaign and persuade readers with a single glance.
Keep in mind that Black Friday campaign materials are in fact a means to an end. Both the copy you write and the motion graphics you include will need to work in tandem with a compelling CTA (call-to-action). To cut you some slack in this rather demanding process, the SVGator team decided to create a set of Black Friday GIFs that you can download for free and easily customize to fit your brand's BF strategy (change discount %, color, easing, etc.)!
Black Friday SVG Animations
Black Friday SVG animations are ideal for all the customer touchpoints where loading speed and page performance are critical this time of year. There's not a second to waste, and not a customer interaction to spare! The advantages of SVG animation really shine through in all the promotional/e-commerce motion graphics you can create with a full-featured SVG animation tool.
🎨
The best part is that there's no skill gate-keeping involved in animating SVG. Motion designers, graphic designers, web developers, tech bootstrappers, founders, marketers, and small business owners alike can jump into SVGator and create SVG animations to advertise their sizzling Black Friday discounts, without writing any code.
An animated banner can mark the start of a sale. A hero section animation can let every one of your website's visitors in on the awesome promotions you've got going on. A landing page Black Friday animation can help close the deal with loads of on-the-fence customers that were stopped in their tracks by your amazing motion graphics. Endless possibilities! And you can extend the reach of your animated SVG materials by exporting them to .js (React Native) or .dart (Flutter), and implementing them in your mobile app – as splash screen animations, app onboarding animations, and more.
Black Friday Animated SVG example - Made by SVGator
Black Friday Icon Collection
E-commerce iconography is a realm of its own, and the world of design places great value on creating icons that are accessible and fit for consistent user interfaces. Getting your online store Black Friday-ready isn't just about putting out the best deals in your niche. Gearing up for a smooth and cohesive UX to deliver the best possible online-shopping experience plays a big part in your campaign's success as well.
We've created a fully-customizable e-commerce/Black Friday icon collection (both static and animated) that's free for download – ready to help clients navigate your shop's UI faultlessly. From account settings, filters, wishlists, shopping carts, and payment options, to delivery tracking, feedback, customer support, and more! Work on providing the perfect customer journey with Black Friday icons during busy times like these, and watch casual shoppers turn into loyal return clients.
Black Friday Animated Icons - Made by SVGator
Black Friday Animated Stickers
Animated stickers are such nifty Black Friday assets, and we're seeing them pop off in popularity across the board, especially among social media marketers. There's no way to go wrong with stickers, as they're essentially animations with a transparent background. You can overlay them on top of product images, newsletter templates, reels, TikTok videos, and any other social media post format out there.
The best Black Friday animated stickers include straightforward texts that heighten the sense of urgency and FOMO (fear of missing out). SVGator's collection of free animated stickers plays directly into this style of motion graphics. Use them in every sales season to get all eyes on the deals that your customers simply won't be able to pass up!
Black Friday Animated Stickers - Made by SVGator
Black Friday Animation Examples to Follow
Pick up some inspiration by taking a look at how a Black Friday animation gets used in mock-ups, designer portfolios, and real digital marketing campaigns to achieve the ultimate goal: SELL!
Black Friday Deal Animation
Use a Black Friday animation to call attention to some of your best sellers from the 2022 campaign, or to give your newly released product lines a worthy introduction just in time for peak BF sales.
Black Week Discount Animated Stickers
Are you stepping up your game and going the extra mile with your "Black Friday" deals? Scatter enticing discount percentages in animated sticker format all over the big news. Hosting a Black Week event deserves all the hype!
Discount Tag Animation
With just the right amount of pizzazz, a simple discount tag animation can be a powerful Black Friday asset. It's just a matter of placement and timing. Add it to your online shop's product listings to make sure that hefty discount doesn't go unnoticed.
Store Onboarding Animation
Take advantage of the undivided attention that onboarding screen animations bring to the table. You can go all-in with the Black Friday campaign by making your deals the first thing a new customer interacts with!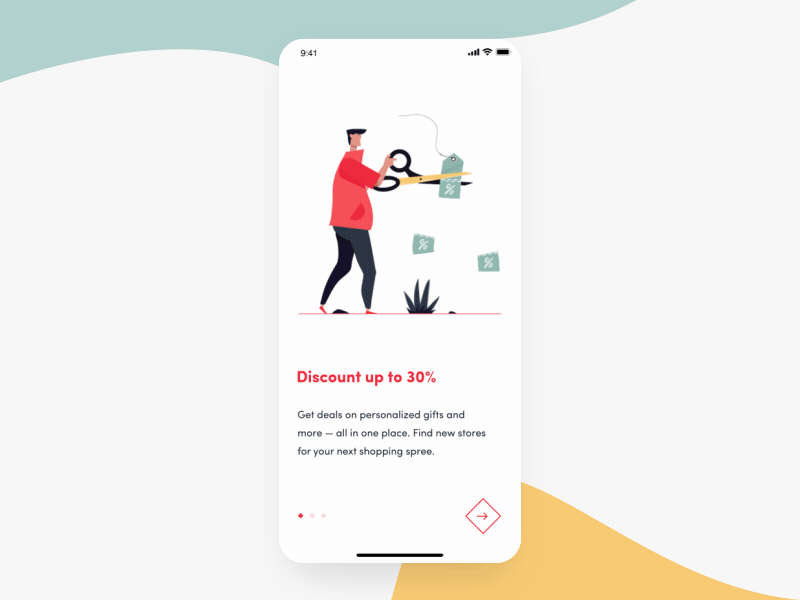 Emoji Animated Sticker
Put in motion the exact feelings and reactions that you're trying to elicit from your customers! Animated emojis are amazing mood-setters, as they are interpreted similarly worldwide, even breaking language barriers.
E-mail Marketing Black Friday GIF
The friendliest and cutest of Black Friday GIF animations can have the biggest impact on your mailing list. Putting the emphasis on exactly what your clients will most likely be interested in is key. Subtle yet full-toned, straight from a megaphone!
Black Friday Campaign Kick-Off Animation
If you're having an extended Black Friday sale, it's worth taking the time to create some buzz with a launch announcement. Even without putting forth your discounted prices, you can let clients know they're in for a treat in the upcoming sales event with a campaign kick-off animation.
By Ciprian Ciocoiu
Black Friday Banner Animation
You can't go wrong with a clear-cut Black Friday banner animation! Nail the easing for an exciting effect, and you've got yourself a prime sales asset that leaves no room for guesstimating on what the customer stands to gain when browsing your website.
Black Friday Frenzy Animation
Show customers just how fast you're selling out with your irresistible Black Friday promos. No shame in a "fake it till you make it" pitch, while the shopping frenzy is just starting to ramp up. Motion graphics are great at amping up the sense of urgency!
Black Friday Last Day Reminder Animation
Getting closer to the tail end of your Black Friday campaign? Along with sending out that "last chance" reminder email, let your brand's followers on social media know that time is running out, too. The gradual reveal in this Black Friday animation is perfect for a last call. You could also try using an email search tool to address new potential users from your social accounts.
By Varya Fomicheva
Big Sale Animated Sticker
A "big sale" animated sticker that peels off to give away a 50% discount is like a reward in the Black Friday price/discount hunt. It includes a bit of anticipation, a sprinkle of curiosity, and a satisfying loop!
Black Friday Deal Juggling Animation
Show customers just how much fun they'll be having on delivery day after their Black Friday shopping session! It's a pleasant change of pace to move the focus from discounts to the actual products that clients are most stoked about.
Black Friday Sale Tags Animation
It's all about the price tag on Black Friday! We know it, and customers know it. Use these tags to signal the thrill of discounted prices on the day of the big sale, with a dash of motion for extra appeal.
Mystery Sale Animation
Running alternative campaigns alongside Black Friday sales is becoming a thing. But since it's tricky to shift attention from the promos of the year, animated graphics like these can give offshoot campaigns a better chance to further increase sales.
Black Friday UFO Sneak-Peek Animation
"Our discounts are out of this world. Even extraterrestrials can't resist them 👽!" The copy that goes along with this Black Friday SVG animation basically writes itself.
Sneak-peek Animation - Made by SVGator
Download Free Animated Black Friday Assets
With a full tank of inspiration, it's time to dive right into the Black Friday freebies we're all here for. Created by SVGator's team of in-house motion designers, now free for download:
Terms of use:
Free for personal and commercial use, without an attribution obligation.
💡
Pro Tip
: The Black Friday animations that you can download for free here, you can also find in SVGator's
asset library
. The animated assets are 100% editable and can be exported to an extensive
range of formats
for both the web and for your mobile apps, including MP4, MOV, WebM, SVG, GIF, Animated PNG, and more.
You can customize all your SVGator Black Friday freebies without writing a single line of code or having to jump into any 3rd party plugin/software for the final export.
How to Customize Your Black Friday Freebies
Clients might feel swamped by generic BFCM ads right now, so make sure you show your customer base a bit of nuance, and get intentional with your Black Friday motion graphics. Edit your free animated assets to match the brand's or campaign's iconic colors, change the discount percentage to reflect your exclusive deal, or tweak the animation for a more dramatic/subtle effect.
To customize your Black Friday animations with the Pro Plan, you just have to access the SVGator library and add them directly to your project. Not only are the assets fully editable, but if you're exporting them as .svg, .js or .dart, you can make them interactive as well, with just a few clicks in SVGator's export panel.
Final Thoughts
With 40+ animated freebies on hand, that Black Friday checklist you're working on for BFCM 2022 just got a lot less daunting. Log in to SVGator and set your Black Friday campaign in motion (literally!). Come check us out on Facebook, Instagram, Twitter or Reddit to keep an eye on SVGator's own upcoming deals! 🤫